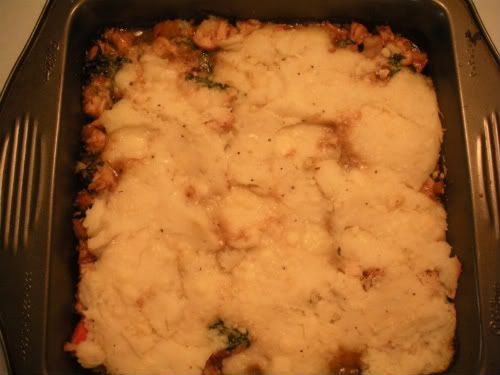 This was honestly the first year I had enough leftovers to really revel in the leftovers. You know, turkey sandwiches for days.
Except there was also a turkey omelette, turkey frittata, and then the turkey shepard's pie.
And how incredibly fitting since shepard's pie was created as a way to use leftovers.
And I used them all up. It was the easiest cooking I'd done in a while.
Open Tupperware container, pour out contents, repeat.
Fantastic.
And did I mention so delicious?!
So she's not the prettiest girl at the Thanksgiving party, but she is the tastiest.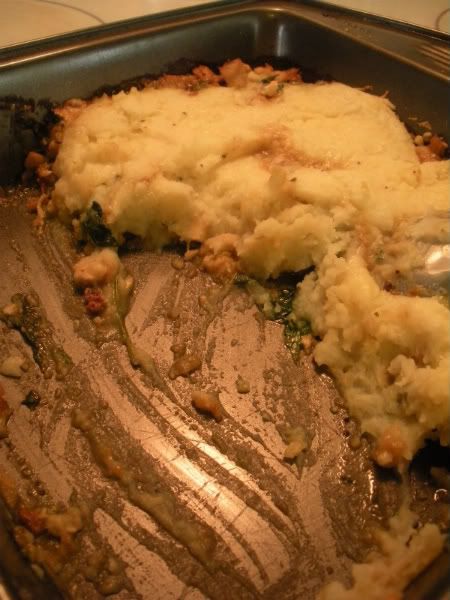 After Thanksgiving Turkey Shepard's Pie
Olive oil
2 cloves garlic
2 cups turkey, diced
½ cup leftover vegetables (I used my glazed carrots here)
½ cup spinach (I used the leftover spinach salad with a bacon vinaigrette. Hellooooo)
½ cup stuffing
¼-½ cup gravy, or chicken stock
1-2 cups mashed potatoes
2 T parmesan cheese
1. Preheat oven to 400F.
2. Heat up oil in a medium saute pan. Cook garlic. Add in turkey, vegetables, spinach, stuffing, and gravy. Add in some chicken stock if necessary to make a bit of a sauce.
3. Stir together until heated up and bubbly. Season with salt and pepper, if necessary.
4. Pour into a baking dish, top with mashed potatoes, sprinkle with cheese, and bake for about 10-15 minutes.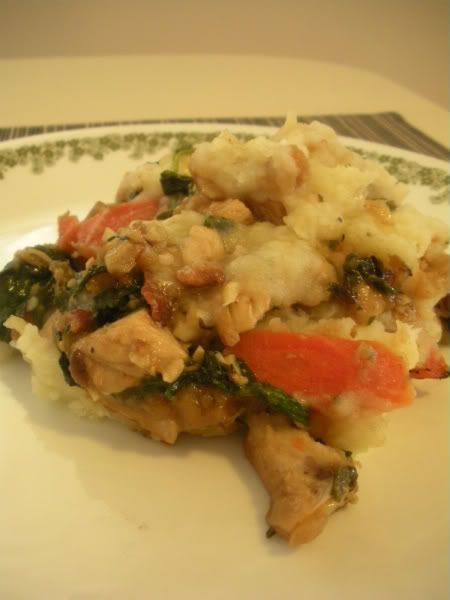 Thanksgiving reborn!