To be honest, if I had to pick one favorite food it would have to be a cheeseburger. A greasy, gooey, cheesy cheeseburger.
And I don't mean a big, fat patty on a big bun. Although, that's ok, too.
I'm more of a fan of the thin patty charred perfectly on a flattop so you get the crispy outside and a juicy inside. And a big slab of cheese to melt all over it.
It's my kind of meal, what can I say?
Well, I can say that I have been living off of these cheeseburgers for a couple of weeks now.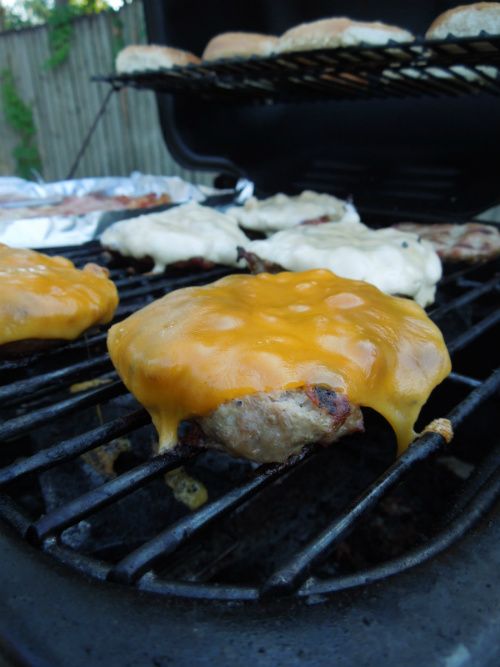 Bacon turkey burgers. Is there anything else in the world?
Unlike those who prefer to season the outside of the patty, I'm a firm believer in seasoning the meat and mixing it up.
A big sprinkle of salt, a decent sprinkle of pepper, and a dash or so of garlic powder. A good char on a grill and a slab of cheddar (though I also had some manchego laying around and that was all sorts of delicious).
I also like to cook my bacon on the grill, too. Lay a piece of tin foil down and use that as a skillet almost. The bacon crisps up beautifully.
All other rules remain: flip only once, don't press down. Oh, but cook it all the way through.
This is not the place for a medium burger.
The result is one tasty, juicy, healthier option.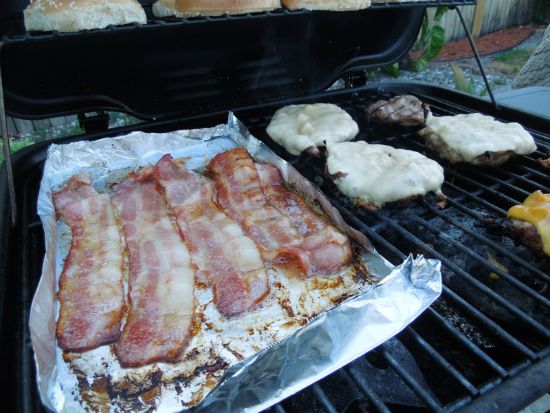 Gouda and Cheddar Cheeses.