It is officially December! It is officially holiday season!
Up until I met the husband I'd actually never had a real tree. I never even knew about real trees.
Most of my childhood was filled with a 4 foot artificial tree we propped up on side table and filled it with lights, garland, tinsel, and numerous ornaments. It was fantastic.
But I have to say that I'm pretty sure I've become a real tree fan for life.
Everything about it screams holiday fun: picking and choosing, taking it home, opening it up and getting a whiff of that pine smell, watering it, and decorating.
This year we put on Pandora's holiday station while decorating and Sandy puppy watched from her little pillow.
We even got a little fence around it and some fake fluff snow to puppy-proof the tree.
But enough about that tree!
The first time going out to pick a tree was exciting to say the least.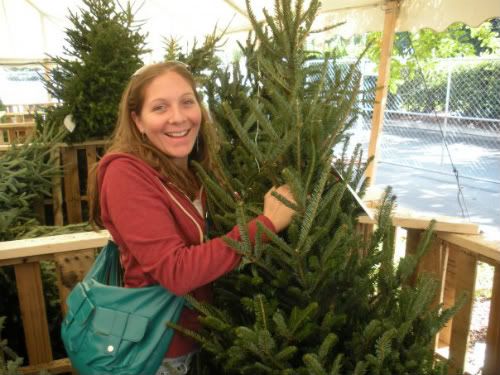 Can you tell??
That cross-body bag was found in the Target clearance section. I loved it cause the color screamed "HELLOO!". I have since grown tired of it, of course, but that sweater?? The best $7 sweater I've ever owned.
Here's to the holiday season.