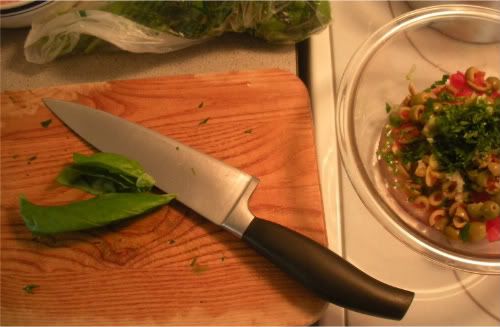 Up until a couple of days ago, it was still pretty hot.
And while the sun still shines quite bright, there is a nice breeze that has come around and cool air that has come with it.
This is a good thing. This is a great thing.
Cause I don't like sweaty armpits in winter.
Anyway, last week, in the midst of the heat, the husband and I decided to try out our new grill and make a nice grilled lunch.
Some grilled chicken, some grilled zucchini, some grilled broccoli, and some grilled ciabatta - for the Greek bruschetta, of course.
And this should really be called "Greek" bruschetta, because it's really no more Greek than Taco Bell chalupas are "Mexican" or Olive Garden is "Italian".
But moving on!
I found this recipe in a Kraft foods magazine and loved it the second I made it.
The original recipe is a bit different than mine and calls for kalamata olives. I'm actually not a kalamata fan, so just opt for the delicious green spanish olives instead.
You can use day-old or stale bread for this, which is great. I usually find myself with a rock-hard piece of leftover bread and instead of throwing it away, this is a great use.
And on a winter day, this is a little bit of summer sunshine.
Greek Bruschetta
2 tomatoes, diced
1 cup olives, diced (kalamata or any kind, your choice)
1/2 cup feta, crumbled
2 cloves garlic, minced to a paste
3 stalks scallions, finely diced (optional)
handful parsley, chopped
handful basil, chopped
juice of 1/2 lemon
2 T olive oil, plus extra for bread
salt, pepper
1 loaf ciabatta, or other bread, split lengthwise
1. Mix all ingredients, minus the bread, in a bowl. Adjust seasonings if necessary. Let sit in fridge for about 5-10 minutes. (This can even be made a day or 2 in advance).
2. Lightly drizzle oil on cut side of bread. Place on grill to get a good char.
3. Top grilled bread with tomato-olive mix. Enjoy.