I work in an Italian restaurant and sometimes I just have no desire to go out for Italian. I mean, really?
So when the husband suggested we head out to
Brio Tuscan Grille
(
grille?
I hate that) because he happened to have a gift card from the holidays, I obliged, figuring I'd just order some chicken parm and call it a day.
Upon entering Brio (located in the wonderful
Pembroke Gardens
), I was pleasantly surprised. The inside is big, but manages to still remain cozy with perfect lighting, crisp white tablecloths, and comfortable booths. The open kitchen is impeccably clean and actually fits in beautifully with the ambiance, not just sticking out like a sore thumb.
Starting off with glasses of signature and white peach sangria (pitchers also available), we then decided on the daily bruschetta special of fontina cheese, wine caramelized onions, asparagus, and prosciutto.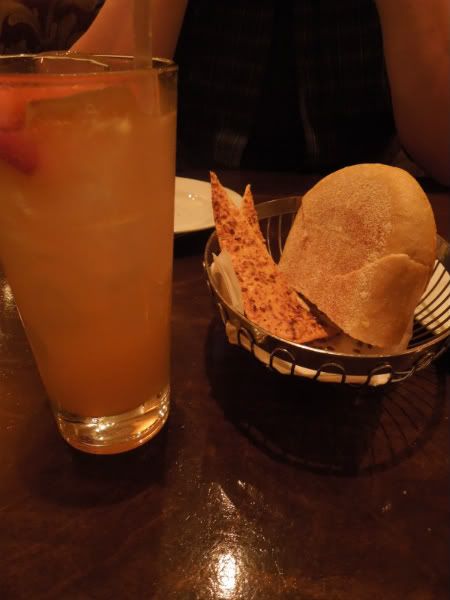 They offer a number of bruschettas and flatbreads ranging from the more rustic and traditional - margherita, roasted red pepper, ricotta - to crowd-pleasing favorites - sliced steak, bbq chicken, chorizo and blackened shrimp. Our eyes skimmed the selections, but were really intrigued by the special.
The sangrias (which arrived with some warm bread and crackers) were delightfully delicious. The signature red sangria was sharper, drier, not as sweet, but robust and flavorful. The white peach sangria was crisp, light, refreshing, and perfectly sweet. I was a fan.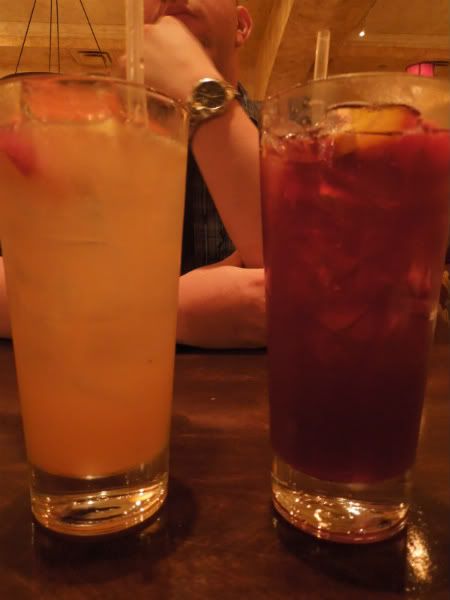 The wine list is rather large and their signature cocktails seem to be served with either a wine, sparkling wine, or up.
Skimming the menu some more, the sweet potato and chicken risotto called my name. Normally, this would send me into slight panic. Risotto can be such a gummy disaster in the hands of the wrong person, but I seemed to be feeling trustworthy today. The husband opted for the penne gorgonzola, an avid blue cheese fan.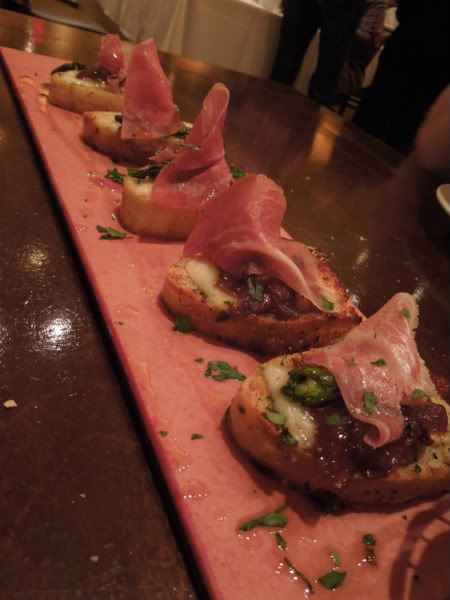 The bruschetta was beautifully presented on a long wooden board. They sat neatly side by side, as if arranged delicately with precision. The real star was the wine caramelized onions. The sweetness is fantastic, with just a hint of the wine, and an underlying sweetness - perhaps honey? - coating your tongue. The asparagus had perfect crunch and the prosciutto lent itself perfectly to create that salty-sweet combination. Unfortunately, the fontina cheese was too mild of a cheese to really compete with all of these robust flavors. Maybe a sharp provolone or even a smoked cheese would have worked better?
Regardless, it was fantastic.
The entrees arrived shortly after.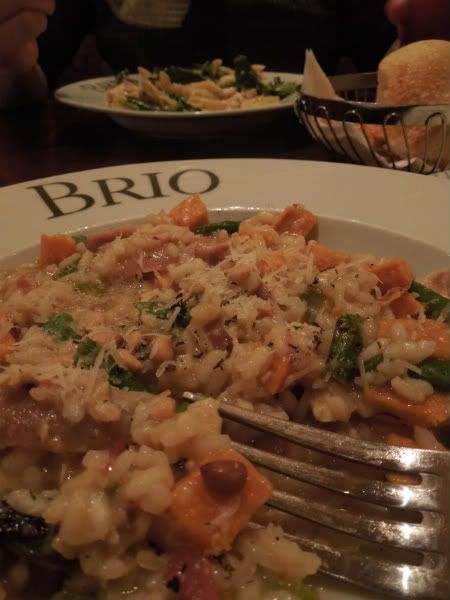 So can I say that apart from some minor setbacks (some of the sweet potato pieces weren't fully cooked) this may very well rival
the best risotto I've ever had
?
It was luxurious, creamy, decadent. The bacon added that perfect salty bite that only bacon can add, the toasted pine nuts gave way for contrast in texture, the specks of thyme hit the right herby note, and the chicken was the biggest surprise of all.
This was not overcooked, dried out, diced up chicken thrown carelessly into the pot. This was moist, flavorful, juicy chicken tenderly pulled apart and stirred into that wonderful risotto.
I was so pleasantly surprised, so happy with the selection.
And yes, the husband loved his penne gorgonzola, too.
We opted out of the dessert selections - your basic carrot cake, chocolate cake, mascarpone-something-or-other - instead going for some hot tea (for me) and an irish coffee (loaded with Jameson - for him).
But I will make it a point to head back to Brio, a delight in Italian food. Not cliché, not boring, not the same. Different, and delightful. And so delicious.