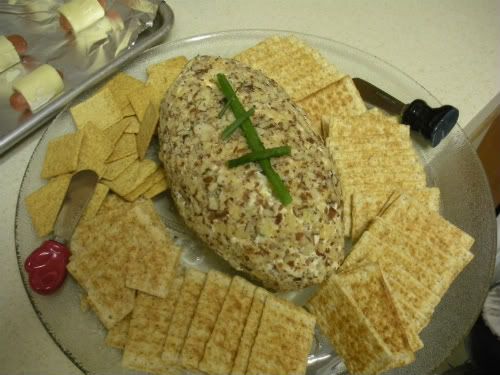 When the husband and I moved into our apartment, we decided to throw a Superbowl get together. It was fun (almost a little
too
fun), but in terms of food, there were some hits and misses.
And the end of the day, the best food for a game day should be fun finger food. Calories be darned, the stuff should be tasty.
The pigs-in-blankets were big hits, of course, but so were the spinach and cheese dip and cheese football.
Too much cheese? Depends on who you ask. I'm a bit of a cheese-o-holic.
This cheese ball I actually make every year for Christmas time as well. (You can see the little snowman hands and feet spreaders).
Whatever works for you this Sunday, these cheesy recipes will make delicious additions.
Cheese Football
2 (8 oz) packages cream cheese, softened
8 0z sharp cheddar cheese, shredded
4 strips bacon, diced and cooked until crisp
dash pepper
1-2 stalks green onion, minced
1 c chopped walnuts
pimento strips or green onions
1. Mix cheeses, bacon, pepper, and minced onion in a bowl until thoroughly combined.
2. With your hands, shape into a football shape. Refrigerate for an hour or more. This is great to make in advance.
3. Roll football in nuts to coat. Add pimento or green onion strips for football lacing. Serve with crackers.
Spinach and Three Cheese Dip
Adapted from The Sun-Sentinel and (now-defunct) Dan Marino's Fine Food and Spirits. The original recipe does call for Tabasco, but I always leave it out. And while it does call for frozen spinach, fresh is just as great. The recipe also says to sprinkle the mozzarella and cheddar cheeses on top and then bake. I usually throw half in with the dip to melt in and sprinkle the remaining on top. More flavor, I think. Optional garnishes include: sour cream, diced red onion, and bacon.
1 T Tabasco sauce (optional)
1/2 c + 2 T parmesan cheese
1 (10) oz box frozen spinach, well drained
4 oz shredded mozzarella cheese
4 oz shredded cheddar cheese
1. In a medium saucepan, melt the butter on medium heat. Add in the flour and cook for a minute or so, constantly stirring.
2. Add in half and half, constantly whisking to ensure no lumps. Add in salt and Tabasco, if using. Bring to a boil until thickened. Bring down to a simmer.
3. Slowly whisk in parmesan cheese. Add in spinach and 2 oz each mozzarella and cheddar cheeses. At this point you can pour it into an oven safe dish and refrigerate.
4. When ready, preheat oven to 450F. Sprinkle remaining mozzarella and cheddar cheeses on top and bake until golden and bubbly. Serve with crackers, chips, or toasty bread chunks.
Let's go anybody but Tom Brady!