There really is nothing like chocolate and peanut butter. The quintessential combination of salty and sweet is perfection. Seriously.
So I set out to make a cookie to emulate that perfection.
It's Tuesday night and we want some cookies. The husband mentions peanut butter. I peruse through my newly-organized (and super fantastic!) recipe binder and stumble upon a recipe for chocolate peanut butter cookies. Not chocolate chip peanut butter, mind you, but chocolate peanut butter.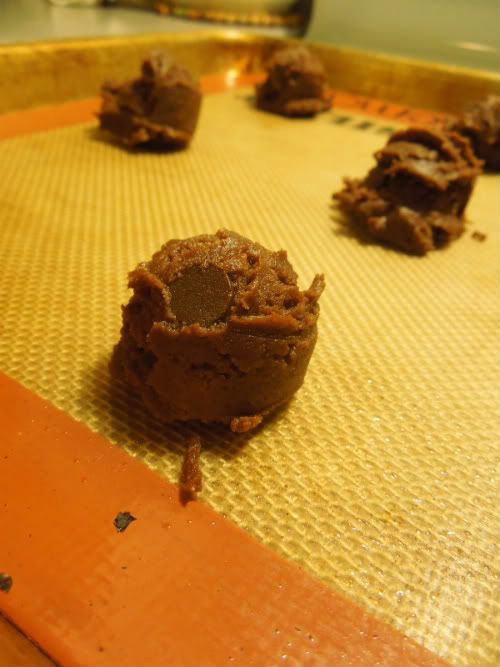 The recipe - which I don't know where I got - seemed a bit off to me, so I tweaked it. I added some things, I took away some things, I rearranged some things.
The final result is still a work in progress. While I wanted a fudgy, gooey cookie, I ended up with a cakey, fluffy product.
Still, it was a tasty cookie. With layers of buttery goodness and tasty crumbs.
While I will continue to work on it, this may kill the chocolate peanut butter craving just the same.
Chocolate Peanut Butter Cookies
1. Preheat the oven to 350F. Line a cookie tray with parchment paper, foil, or a silicone mat.
2. In a mixing bowl, cream together the butters and sugars until light and fluffy, scraping down occasionally to incorporate fully.
3. Add in the egg and mix until combined.
4. In a separate bowl sift together the dry ingredients. Add them to the butter-sugar mixture and mix until just combined. Add in the chocolate chips.
5. Place by tablespoon-fuls on the cookie sheets a couple of inches apart. These cookies won't really spread, but puff, so don't worry about leaving too much space between. If you want a flatter cookie, you can press them down before baking.
6. Bake for about 12-15 minutes, keeping a close eye. It's hard to gauge when they are done because they're chocolate, so I usually look at and touch the tops of them. If they look done and don't feel gooey (but still leave an indent), they're done.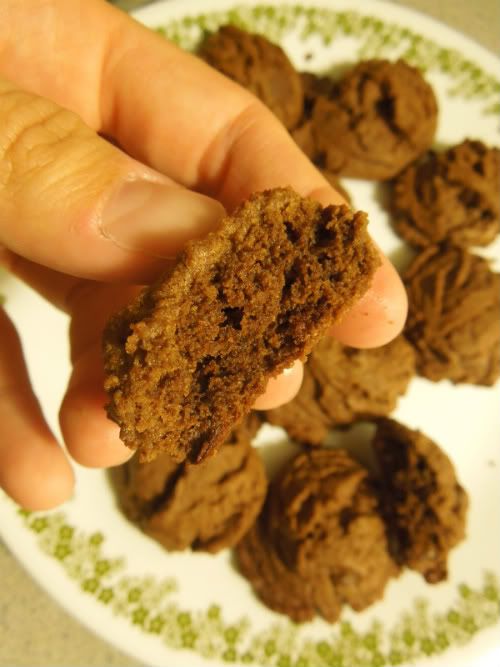 Enjoy with a glass of ice cold milk. These cookies are also, surprisingly, really tasty (perhaps tastier) when cold from the fridge.