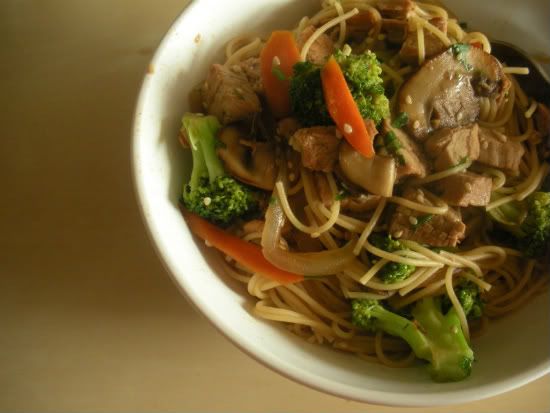 5 reasons I love a good stir fry:
1. Anything goes. It's the perfect meal to come from cleaning out your fridge or crisper drawer.
2. I love prepping the vegetables. Chop chop chop, slice slice slice, dice dice dice, cut cut cut. I love the feel and the sound of my knife hitting the cutting board. I love the array of vegetables laid out.
3. It hits a lot of tastes on your tongue: salty, crunchy, sweet.
4. It comes together in minutes. All you need is a smoking hot wok and your prepped vegetables.
5. Tastes just as good - if not, better - the next day.
pork stir fry with mushrooms, onions, carrots, broccoli, spinach and thin spaghetti. soy sauce, a splash of chicken stock, a squeeze of lemon juice, a sprinkle of sesame seeds.