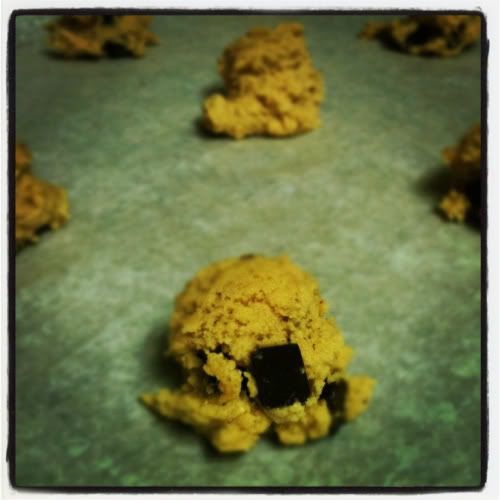 Who doesn't love a cookie? And really, who doesn't love a peanut butter cookie?
Well, I can name one. And he might as well be disowned.
Joking aside, a good peanut butter cookie is a wonderful thing. Warm from the oven with a nice glass of cold milk. How can you go wrong?
I have actually tested out many peanut butter cookie recipes in my day, some crispy and crunchy, others puffy and chewy. While my chocolate chip cookie is practically an institution in my brain, I'm open to any kind of peanut butter cookie recipe - always ready to find a recipe to compete with the last.
So it was pretty interesting to see a peanut butter cookie post in
Orangette
.
While I have yet to make those really delicious-sounding cookies, I did make my current stand-by peanut butter cookie recipe. They're puffy, chewy, crumbly, melt-in-your-mouth, little morsels of yummy-ness.
And what more could you ask for from a cookie?
I am actually going to post the recipe for those, pictured above,
and
post the recipe for the stand-by recipe I used to use before. Both are great and both use the same amount of peanut butter, sugars, and butter, but the similarities end there. The first peanut butter cookie recipe I really loved, the peanut butter cup cookies, call for half the amount of flour and eggs. This really leaves room for a crispier cookie, but still very delicious.
The addition of baking powder in the chocolate chip peanut butter cookies make for a puffier version.
Whichever you prefer, there is a recipe for you.
Chocolate Chip Peanut Butter Cookies
My current stand-by recipe. Puffy, chewy, delicious. The recipe says to bake 10 minutes, but they tend to take a little longer for me, even with my oven running hotter than normal. Keep an eye on them and check starting at 10 minutes.
Adapted from

Epicurious.com
½ c butter
¾ c peanut butter
½ c sugar
½ c brown sugar
2 eggs
1 t vanilla
2 c flour
½ t b powder
½ t b soda
½ t salt
2 c chocolate chips
½ c peanut butter chips, optional
1. Preheat oven to 350F.
2. Cream together sugars and butters on medium speed until light and fluffy, about 2-3 minutes.
3. Add eggs one at a time, mixing until fully incorporated.
4. Mix together dry ingredients and add to mixer on low speed. Mix just until incorporated. Fold in chocolate (and peanut butter) chips.
5. Bake for 10 minutes. Cool on baking sheet 5 minutes.
Peanut Butter Cup Cookies
If you like crisp cookies, this recipe is for you. The cookies are a perfect balance of peanut butter, chocolate, and crispness. A couple of notes: my oven runs pretty hot so these cookies take about 15 minutes. I would suggest keeping an eye on them starting at 12 minutes. Also, the original recipe calls for half butter, half shortening. If you'd like to try that, by all means.
Adapted from
Sun-Sentinel
and
Big Fat Cookies
by Elinor Klivans.
1 c flour
½ t b soda
1/8 t salt
¾ c peanut butter
½ c brown sugar
1/3 c sugar
½ c butter, softened
1 egg
1 t vanilla
1 10oz bag mini peanut butter cups, chopped (or a couple packages of king size reese's cups, chopped)
1. Preheat oven to 325F.
2. Mix dry ingredients in a bowl. Set aside.
3. Cream butters and sugars together on medium speed until light and fluffy, about 2-3 minutes.
4. Add in egg and vanilla. Beat 1 minute more.
5. Add in dry ingredients and mix on low speed until just incorporated. Fold in peanut butter cups.
6. Drop by tablespoon-fuls about 2 inches apart on baking sheets lined with parchment paper (or foil, or a silpat). Bake 18-20 minutes. Cool on baking sheet about 5 minutes.
And, as always, enjoy.